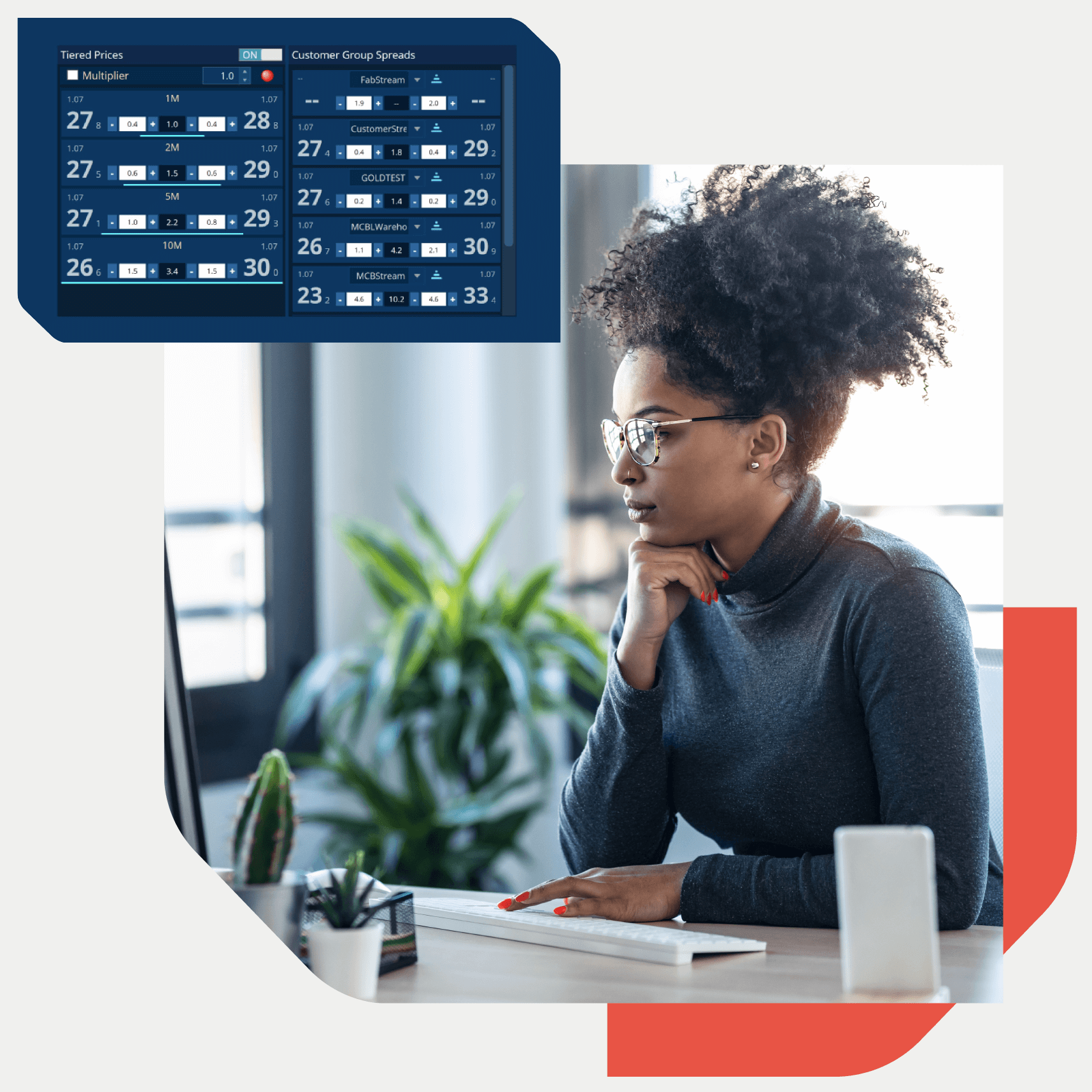 Highly configurable pricing engine
Create bespoke real-time price streams for FX and cryptocurrencies to serve your entire client base. Our configurable rules-based rate engine allows you to customize pricing and hedging strategies for your different customer groups.
Flexible price generation
Provide bespoke real-time price streams for your entire client base, fully configurable to customers' needs.
Use automated intelligent pricing strategies to configure streams by currency, tenor, trading session and spread, notional, time of day, and market volatility.
Manage every aspect of price creation with Integral's intuitive rules-based design and unique synthetics technology for crosses and forwards.
Update streaming prices in real-time or across multi-hour fixed intervals.
Integral to your business
We are the leading currency technology provider to hundreds of financial institutions around the world, including banks, brokers and cross-border payment companies.
Tried and trusted
More than 200 customers, including global banks, rely on our FX solutions.
Daily quotes
We deliver a billion quotes a day to more than 40,000 end users globally each day.
Crypto pairs
Explore pair trading with cryptocurrencies — we support 14 different trading pairs.
Infinite configurations
Our cloud-based platform is infinitely configurable with a unique set up per client, serving our clients anytime, anywhere.
Integral works with us to develop features we need to deliver the best solution possible to our customers and responds quickly and efficiently if issues arise. Our partnership with Integral has been critical to our growth.
Using Integral's technology our trading teams are able to handle a very large trading volume with minimal headcount and virtually no risk of human error.
Integral has an excellent reputation in the industry, which is why we chose their SaaS eFX trading and workflow solution, and are confident it will complement our ambitious growth plans in the years ahead.
Multi-source
FX for
payments
Move from
on-premise
to cloud
Contact us to find out how we can support your most integral currency technology needs.